iWash
Vehicle washing,
more customised than ever.
No two cars are the same. And every vehicle owner has their own particular requirements when it comes to vehicle washing. iWash enables you to offer your customers precisely the wash programme they require. And precisely the wash the desire – individually, flexibly and conveniently by touch selection. This is how vehicle washing of the future looks!
The flexible solution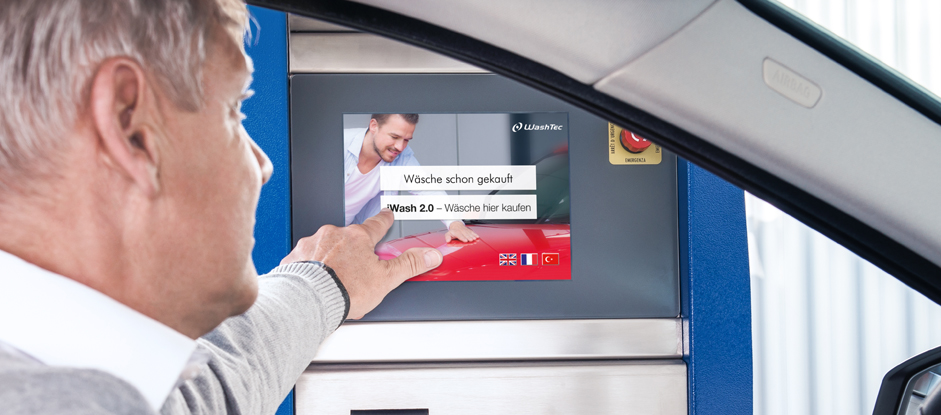 From now on, the days of inflexible, pre-set wash programmes in the car wash are over. Today's customers expect flexible service and simple, intuitive operation when choosing their wash programme. This is exactly what iWash offers. Customers enjoy maximum flexibility in the selection of their vehicle wash.
Innovative technology in detail
It couldn't be more flexible. After selecting the basic programme (quick wash, intensive wash or perfect care), users can choose from a range of customised extras. From "insect intensive" to "high-pressure abrasive dirt", "wheel intensive", "underbody wash" and additional care programmes. Each user can decide themselves which particular cleaning option is right for their vehicle.
After making their selection, the car wash control system determines the ideal washing process and immediately presents the customer with a total price and washing time for the chosen combination. As such, every customer not only enjoys a customised washing experience, but also complete transparency.
Simpler than ever: iWash is operated conveniently via the touch terminal – in front of the entrance to the car wash. iWash introduces modern, uncomplicated user controls into the world of vehicle cleaning, offering a genuinely customer-friendly service!
You may also be interested in these topics