Lymm Truckwash Ltd
Lymm Truckwash is a family-owned and managed business based just off Junction 20 of the M6 and Junction 9 of the M56 near Warrington. It washes over 60,000 trucks per year.The business, which claims to be Europe's largest and oldest truck wash facility, was started in 1967 by John and Anne Cardwell, and is now owned by daughter Laura.
Customers, who can enjoy both a pre-wash and gantry wash within seven minutes at the facility, range from owner-drivers to major fleet operators such as AW Jenkinson, BP, DHL, ECM, Hoyer and XPO.The site had been in the works for three and half years from initial planning permission through to design and construction.
WashTec UK was asked to tender and provide four Maxiwash Varios and eight bespoke pressure washers for this £2.3 million new site.
---
Lymm commented:
"We chose to work with WashTec as not only the product quality is excellent, but the knowledge within the team gave us great confidence that this project will be delivered on time and to the highest standards". "We went out to tender for this project as we had to ensure a smooth transition to our new site… As well as the quality of the wash we provide, continuity of business was of paramount importance."
---
It is a purpose-built site with state-of-the-art WashTec washers, alongside a bespoke pressure washer system and payment system with automatic number plate recognition (ANPR). There will be no need to get out of the truck; simply pull up to the HGV height kiosk, and payment will take about 20 seconds. The pressure washers are housed in a plant room and fed underground into wash bays two external water tanks for the site (holding 50,000 litres) and one external chemical tank (holding 20,000 litres) were also supplied underground and fed into a 1,000 litre internal water tank and separate 200 litre chemical tank.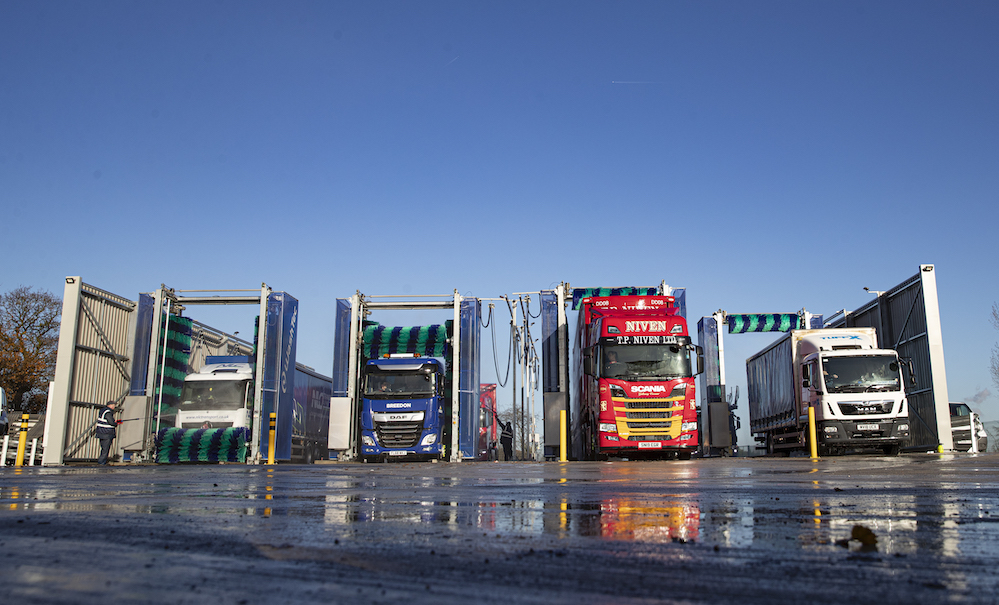 Lymm Truckwash washes more than 60,000 trucks a year for its customers from large fleet operators through to owner drivers and are hoping with their new site and Maxiwash Vario's this will definitely increase. "This has been a huge investment for Lymm Truckwash, and we are always excited to welcome both existing and new customers to our fantastic site."
The Grand Opening took place on November 2019 and since it has been a huge success!